200 Metre High Flare Stack, Yanbu,2014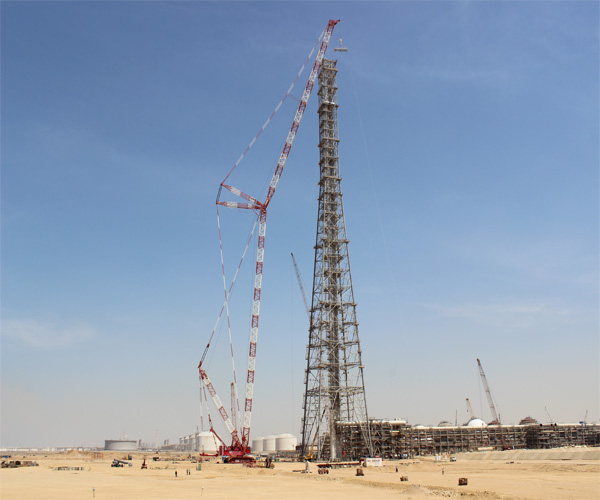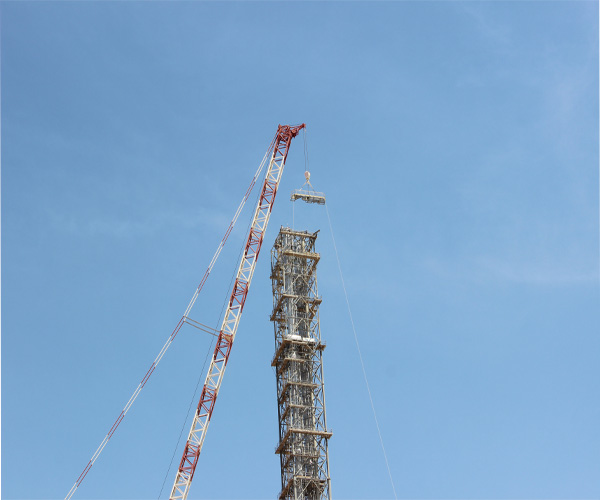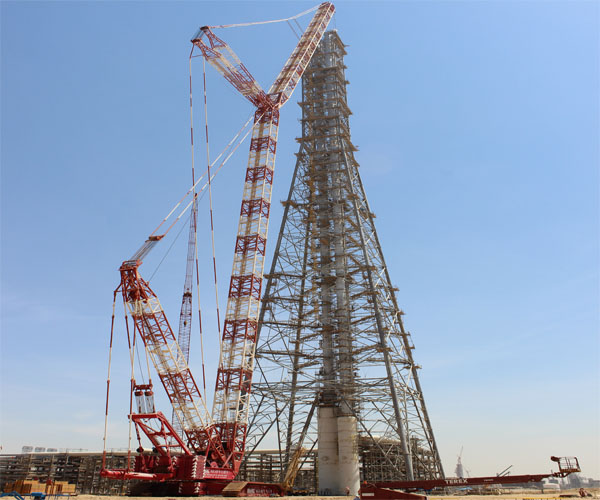 GHHL installed a 200-metre-high flare stack with a Terex CC 8800-1 at Saudi Aramco's Yanbu facility, in segments weighing between 21 and 104 tonnes.
While the size and weight of structure segments made the project difficult enough, the location of the Yanbu refinery, near the Red Sea, also severely limited the time crews had to complete each lift. "Every day, at approximately 11:00 hours, winds would increase from a light breeze of 2 m/s to sustained gusts reaching 16 m/s, and this would sometimes continue all afternoon and evening," explained Sanjay Pachisia, GM of GHHL.
This was well outside the project's permissible lift wind speed levels, which ranged from 4.1 m/s to 7.1 m/s, depending on which flare section was being positioned. The project also required a low ground bearing pressure of 12 t/m2 for constructing the crane's boom configurations and lifting the flare stack.
"The CC 8800-1 crawler crane has 2-metre wide tracks and offers a wide 10.5-metre stance to help disburse the weight over a wide area for heavy lift projects," noted Christian Kassner of Terex Cranes.
Finally, "the centre of gravity for each section was not in the centre of the flare structure, due to the risers, nor was the section installed in the centre of the structure," added Pachisia.
The wide stance of the Terex crane and use of heavy-duty, 5m-long x 2.8 m-wide x 0.36m-thick thick steel matting helped GHHL's operators meet the project's ground pressure requirements.
The combination of these conditions and the structure's weight and height meant that only one crane in GHHL's fleet – the Terex CC 8800-1 – was the right choice to complete the job on time and within budget.
Other case